A vibrant NSS unit is functioning in the college since 2010-2011. During 2011-2012, the unit was selected as the third among the best 7 units under the NSS directorate of IHRD. Apart from the flagship programme , the unit conducts many activities like road safety awareness, talks on different subject by experts, medical camps, anti-tobacco campaign etc.
The motto of NSS is "Personality development through community service. To accomplish this in letter and spirit, NSS unit conducts a 7 day Special Camp every year. These camps help our volunteers to inculcate a " Not Me, But You" attitude in their life. So far we have conducted four special camp and they were appreciated by the local people and media well.

Sri. Faizal P Khan
Programme Officer
Dept. of Commerce
---

The symbol of the NSS is based on the 'Rath' wheel of the Konark Sun Temple situated in Orissa.
The Konark wheel in the symbol has eight bars which represent the 24 hours of the day. The Red colour in the badge indicates that the NSS volunteers are full of blood. i.e. lively, active energetic and full of high spirit. The Navy Blue colour indicates the cosmos of which the NSS is a tiny part, ready to contribute its share for the welfare of mankind.
---

The Motto of NSS "Not Me But You", reflects the essence of democratic living and upholds the need for self-less service. NSS helps the students develop appreciation to other person's point of view and also show consideration to '/other living beings. The philosophy of the NSS is well doctrined in this motto, which underlines/on the belief that the welfare .of an individual is ultimately dependent on the welfare of the society on the whole and therefore, the NSS volunteers shall strive for the well-being of the society.
---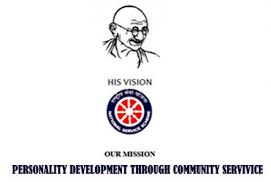 The Aim of National Service Scheme is Personality Development of students through social service.
---
NSS Program Officer